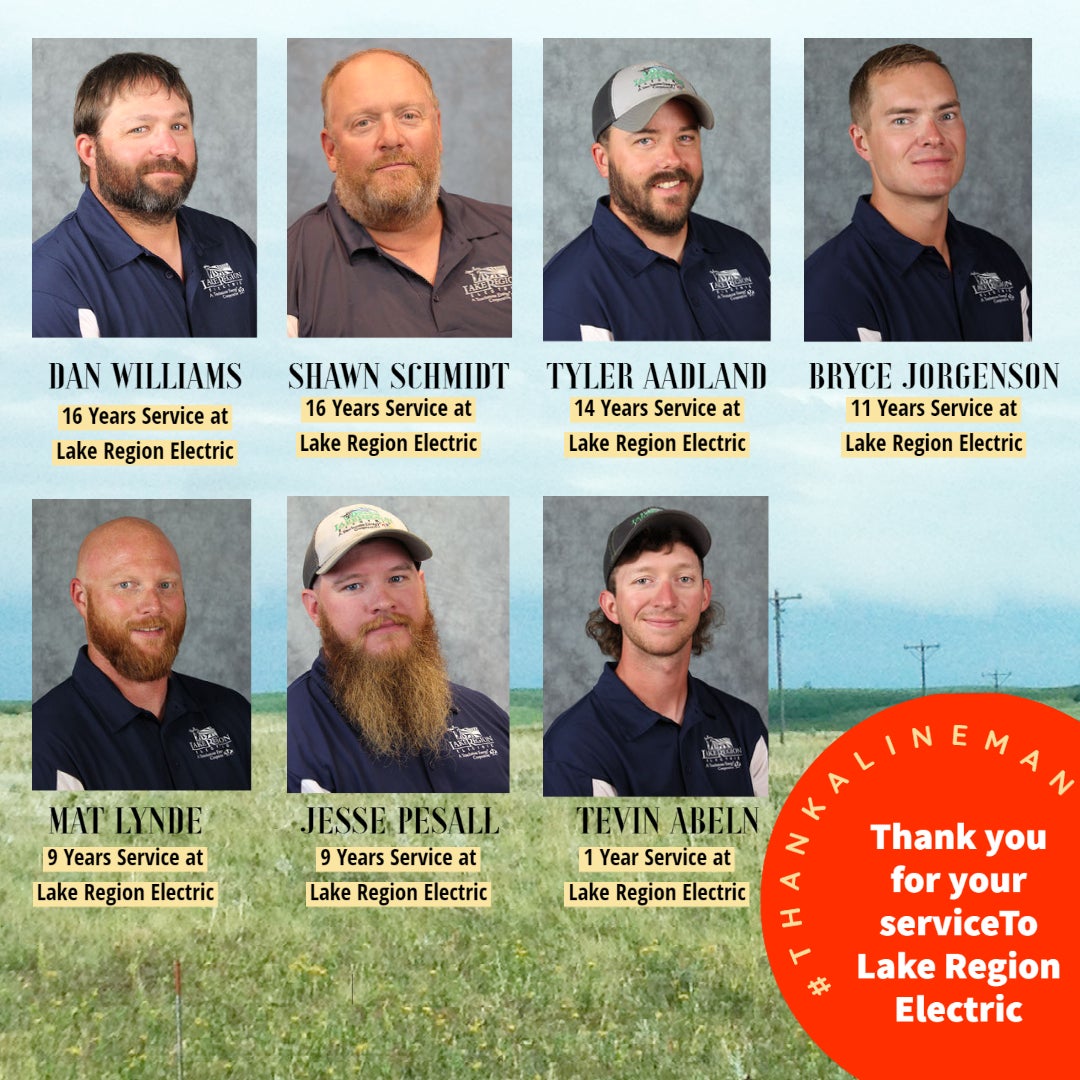 April is a month for celebration. We are welcoming spring, warmer weather, new life and growth. Many of us celebrate the Easter Holiday or Passover. In our territory, April also marks the start of construction season, as it does all across the Midwest. Here at Lake Region Electric, we have another reason for celebration in April. We are celebrating Lineworker Appreciation Day on April 11 this year. 

Nearly 200 years ago, somewhere around 1840, the lineman was born with the introduction of telegraph lines on trees and poles for long distance communication. The profession then expanded with the invention of the telephone and other advancements in technology. Electricity gained momentum in the early 1900s and the power grid really took off. 
The Rural Electrification Act wasn't passed until 1936, but linemen were already working long hours traveling across the country to bring electricity to the people. Lake Region Electric hired its first lineman in 1947. 
There has been a little confusion as to when we celebrate National Lineworker Appreciation Day. Here is what I learned about that: The U.S. Senate declared April 18, 2013, as Lineworker Appreciation Day, but this was a one-time resolution 
(see below). It was not declared as an ongoing designation. In 2014, the National Rural Electric Cooperative Association (NRECA) decided to go with the April 18 date again, which also happened to fall on Good Friday. 

Many co-ops were unhappy celebrating Lineworker Appreciation Day on Good Friday, which is why the NRECA board designated the second Monday of every April. The board resolution ensures the date always falls on a weekday, so that co-ops can honor lineworkers during a workday and it never falls on Good Friday. It should also be noted that other industry groups recognize lineworkers during different times of the year.

We appreciate our linemen every day, even more on days of inclement weather. Join me this April 11 in giving an extra shout out to the guys whose goal is to light up your lives no matter what is going on.
113th CONGRESS - 1st Session
S. RES. 95
IN THE SENATE OF THE UNITED STATES, April 10, 2013
Mr. Isakson (for himself and Mr. Bennet) submitted the following resolution; which was considered and agreed to
RESOLUTION
     Recognizing linemen, the profession of linemen, the contributions of these brave men and women who protect public safety, and expressing support for the designation of April 18, 2013, as National Lineman Appreciation Day.
Whereas linemen are often first responders during storms and other catastrophic events, working to make the scene safe for other public safety heroes;
     Whereas linemen work with thousands of volts of electricity high atop power lines 24 hours a day, 365 days a year, to keep electricity flowing;
     Whereas linemen must often work under dangerous conditions far from their families to construct and maintain the energy infrastructure of the United States;
     Whereas linemen put their lives on the line every day with little recognition from the community regarding the danger of their work; and
     Whereas April 18, 2013, would be an appropriate date to designate as National Lineman Appreciation Day: Now, therefore, be it that the Senate, 
(1)     recognizes the efforts of linemen in keeping the power on and protecting public safety; and
(2)     supports the designation of April 18, 2013, as National Lineman Appreciation Day.