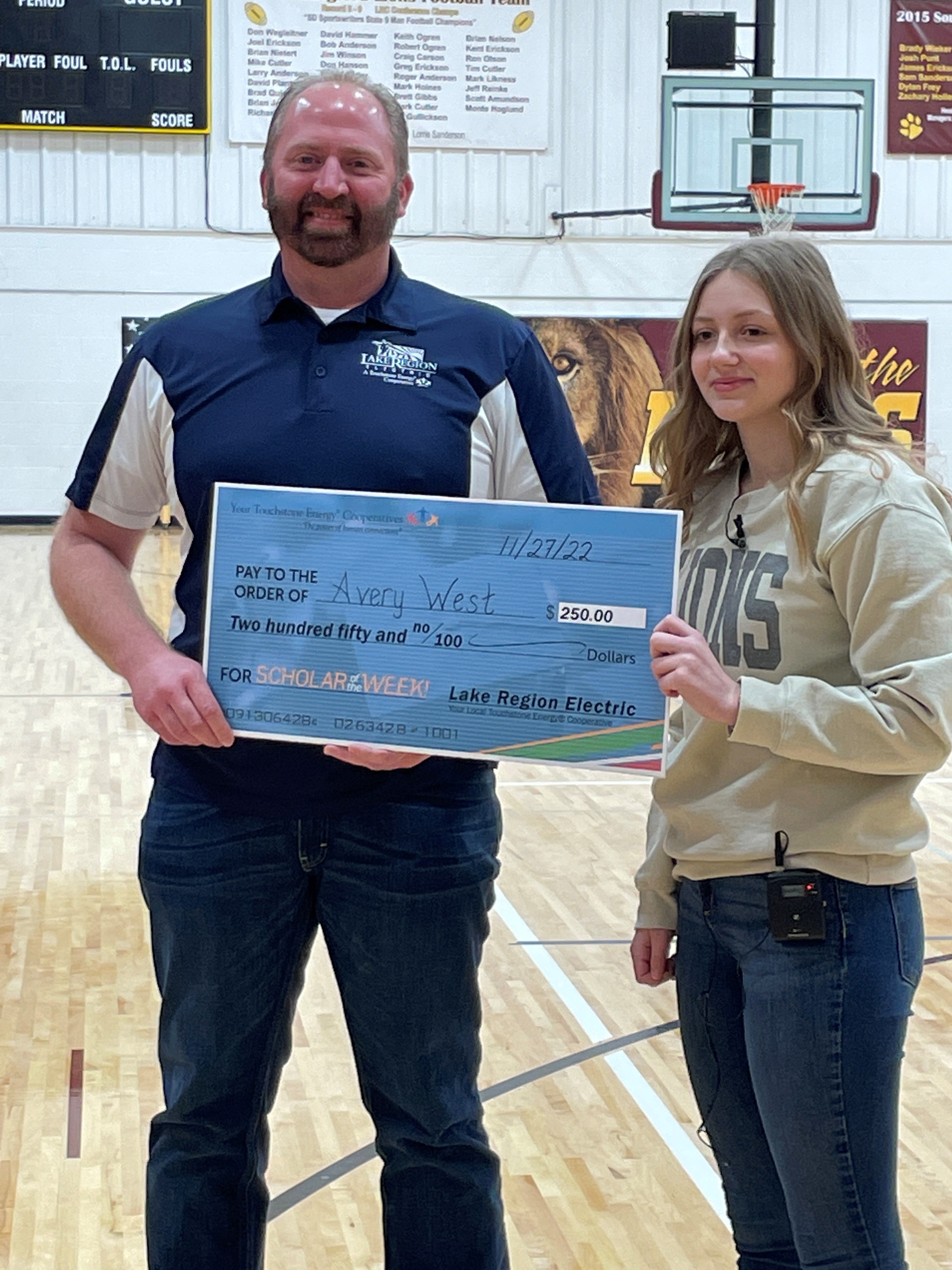 Langford Student Avery West Chosen as Scholar of The Week
Langford High School student Avery West strives to be a role model for younger students. Judging by the way the other students look up to Avery and come to her for help, she has been successful in this endeavor. As one of the top students in her class, she is described as being responsible and accurate. Her teachers say that she is always willing to help her classmates with anything, especially explaining material that is being taught in a way that they can understand. Avery feels that being a positive role model is important, "I remember being little and thinking that the seniors were doing amazing things. And they look up to us. I always make sure I'm doing the right thing, so I can help them do the right thing also."
This year, Avery is doing a student internship in Susan Larson's fourth-grade classroom. "My fourth graders just adore her. They'd much rather seek Avery's help than mine sometimes in class. That's just so nice to see. She's just a gentle kind soul," says Larson. This experience should help her in the future as Avery plans to attend Northern State University to pursue a degree in elementary education, and a minor in special education.
Avery is active at school outside of the classroom in volleyball, chorus, band, student council, and the school play just to name a few. Susan Larson who is also Avery's volleyball coach, says that it is a privilege to coach Avery,  "She always give 100%. She has great determination. She's an awesome role model. She's a great leader, on and off the court."  She is also very active within the community, helping teach Sunday School at our local church.
Avery is humbled by the award and appreciates being nominated and chosen. She is very proud of her community and school "The teachers have pushed us to do great, and I've always enjoyed going to Langford. I think it is a great school, and a nice community. That's the most important part. I think this place has a nice spot in my heart."
The Scholar of the Week program is a partnership between Dakota News Now and your local Touchstone Energy Cooperatives that honors the region's accomplished high school students. Each weekly winner receives a cash award from their local Touchstone Energy Cooperative and is featured on Dakota News Now. All winners are also eligible to receive one of the three scholarships that are given away at the annual Scholar of the Year banquet. Nominations for the weekly awards are submitted by area school principals and faculty, whose selections were based on excellence in the classroom and service in the community.
Avery is the daughter of Mathew and Amanda West. She was chosen as Scholar of The Week for the Week of November 27th. Avery, who was nominated by Langford School Principal, Mary Hosford, received a check for $250.00 from lake Region Electric Association and was featured on Dakota News Now on Monday, November 28th and again on the Dakota News Now morning news on Tuesday, November 29th. You can watch the feature at: Touchstone Energy Scholar of the Week: Role model for the younger students (dakotanewsnow.com)